Meridia Recruitment welcomes Heather Labucki, Senior Consultant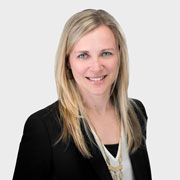 Halifax, NS - Meridia is pleased to welcome Heather Labucki, our newest Senior Consultant focused on the financial sector.
For over 12 years, Heather has provided interim and permanent staffing solutions for accounting and finance needs to clients throughout the Greater Toronto Area and the Maritimes. Working with a recruitment firm based in Toronto, most recently as Principal, Heather has demonstrated how strong candidate relationships and personal accountability paired with a keen understanding of the financial sector translate into outstanding results for clients.
Heather will work as a part of Meridia's financial sector team further enhancing the organization's capability to connect employers with top talent for roles in finance, accounting, banking and insurance.
"We are thrilled that Heather has chosen to join our team," says Kevin Stoddart, Managing Partner, Meridia and KBRS. "Our region has attracted top financial service and insurance companies from around the world and employers are seeking experienced recruitment professionals to assist in finding top talent, for both contract and permanent roles. Our combined experience ideally positions us to provide the solutions employers need."
Originally from Corner Brook, Newfoundland, Heather first came to Halifax to earn her Bachelor of Commerce from Saint Mary's University with a major in accounting, and returned in 2007, continuing to work with the Toronto based firm from her home near Fall River, until joining Meridia.