Meridia Enhances IT Recruitment Practice with Addition of Brooke Ireland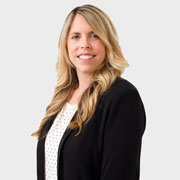 Halifax, NS – Meridia Recruitment Solutions, a Knightsbridge Robertson Surrette company, is pleased to introduce its newest consultant, Brooke Ireland. Brooke's focus is recruitment for IT roles, both contract and permanent positions. She will work in collaboration with Jamie Grant, Senior Consultant and IT recruitment specialist.
"Brooke is the latest addition to Meridia's growing number of consultants focused on contract roles," says Kevin Stoddart, Managing Partner, Meridia and Knightsbridge Robertson Surrette. "Employers are looking for greater flexibility in their workforce and options to support interim needs and project requirements. We are pleased to provide our clients this service with the same commitment to outstanding results that we would with any other role."  Brooke has over eight years of recruitment experience in progressively senior positions, including extensive experience in IT recruitment gained during the five years she worked with an Atlantic Canadian IT recruitment firm. Jamie Grant has been connecting top IT talent with leading organizations for more than 14 years.
"In the last year, Meridia has connected over 180 talented individuals with leading organizations from Labrador to New England, and across Canada, thanks to the efforts of our team of 16 dedicated recruitment professionals," states Stoddart. "With the addition of Brooke, we now have one of the most experienced IT recruitment teams in Atlantic Canada to continue to build on this track record of success."
Get Connected with Brooke Ireland or Jamie Grant.