Image

How to Recruit the IT Talent Your Organization Needs to Grow
Struggling to hire IT talent? You're not alone. Optimizing your recruitment strategy can give you a competitive advantage in a tight labour market.
With a global talent shortage for many sought after IT skills, including software developers, cybersecurity experts, and data analysts, the competition for talent is more fierce than ever. Studies indicate that many digital-focused organizations are struggling to recruit and retain the talent they need to grow and that this struggle amplifies as they scale-up.
Current industry trends suggest that the job vacancy rate in the tech sector will only continue to grow. In Atlantic Canada alone, the Atlantic Provinces Economic Council(APEC) estimates that 2,000 new digital workers will be needed per year to meet the growing labour demand.
Our clients tell us these recruitment challenges are having a significant impact on their organizations, including:
stifled innovation in a time of rapid change,

burnout among current employees and a decline in productivity, and

slowed financial growth.
So what can employers to do increase their chances of successfully hiring the right IT talent? It starts by taking a hard look at your current approach to recruitment and identifying opportunities to grow your candidate pool, keep potential employees engaged, and understand their needs..
Here are a few tactics to help you stand out from the competition and successfully recruit the IT talent you need for a successful and healthy organization:
Understand your audience –

It's important to understand what motivates IT talent. Compensation and benefits, flexible work arrangements, and a strong company culture rooted in opportunities for growth are important factors when they're comparing different job opportunities. Presenting the best offer may not be enough. You have to prove that you'll provide a work environment where they'll be challenged and supported.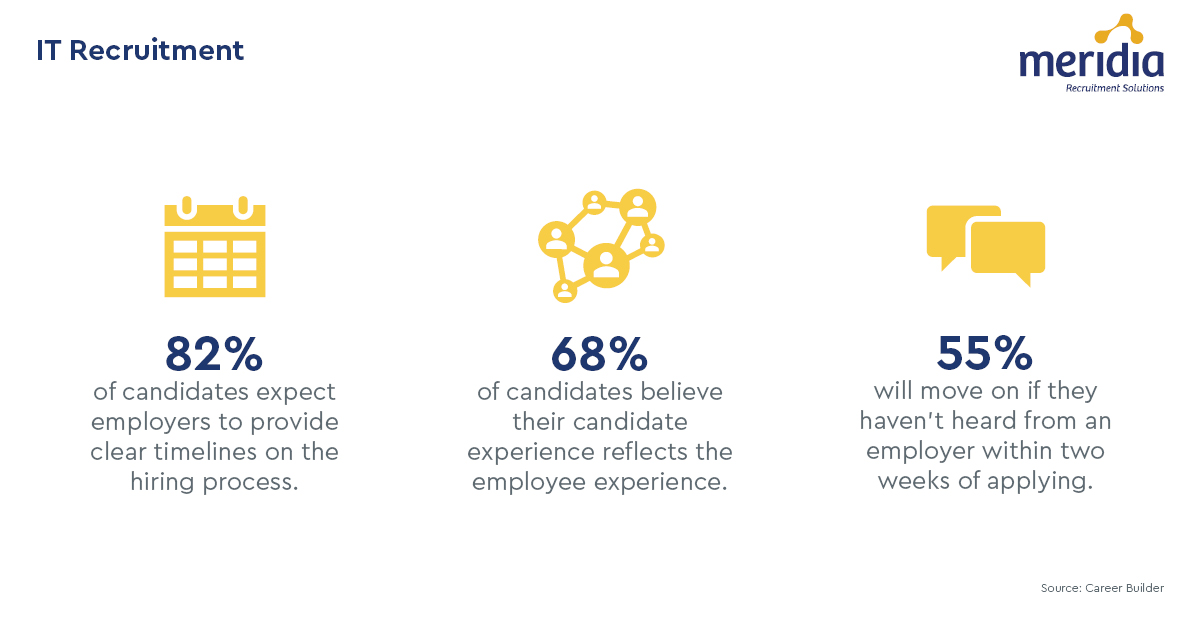 Talk the IT talk

–  Making meaningful connections with IT professionals means understanding their language. According to a Stack Overflow Developer Survey, the largest majority of developers listed languages, frameworks, and technologies they'd be working with as the most important factor when considering a new job. It's crucial that recruiters are able to clearly communicate these technologies, and have a solid understanding of the languages used by prospective candidates.

Proactively recruit passive candidates –

The best candidates aren't always the ones that are actively looking and studies suggest that over 75% of employed IT talent are interested in hearing about new opportunities. Cultivating a network of individuals that could be great employees should be an ongoing effort. Proactively reaching out to them with opportunities when they arise is an important part of a successful recruitment strategy.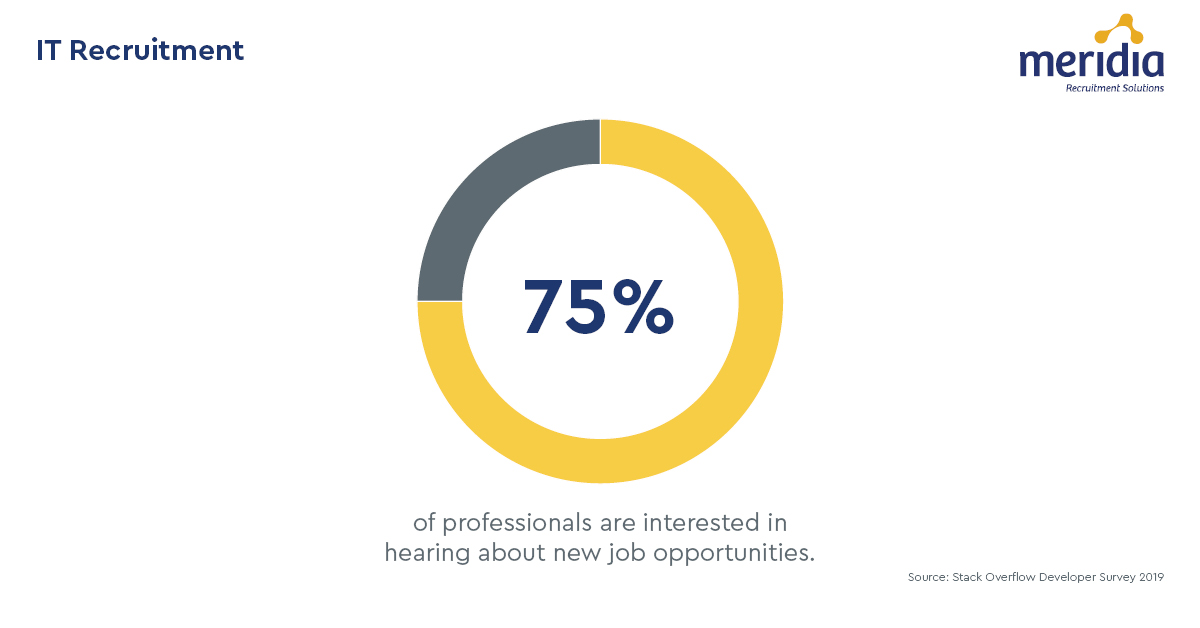 Care about your candidates –

The overwhelming majority of applicants expect a clear timeline of the hiring process and want the care and consideration of being kept up to date on changes. They are also often entertaining other opportunities, so keeping candidates engaged through ongoing communication is critical.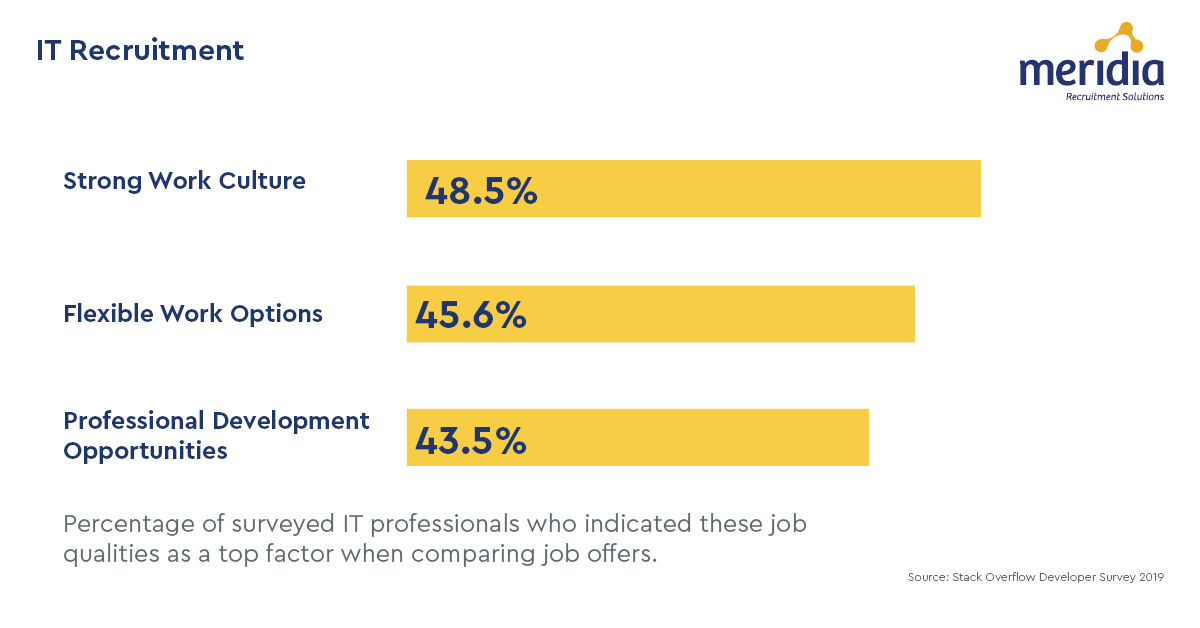 Respond to all applicants –

Go beyond those you want to interview and respond to everyone who applies. Thank them for their interest – at the very least – even if they are not right for the role. This is an opportunity to build a connection with someone who is interested in your organization, who might be a great fit in the future, and who will share their impressions of your organization with their network.
Recruiting the IT talent needed to keep up with the pace of change is a challenge no longer isolated to tech companies. Today the need for skilled IT professionals extends to a wide variety of organization that rely on technology and innovation to remain competitive and achieve their strategic goals. Putting the proper resources behind a solid IT recruitment strategy could be the best investment you make for the future of your business.
For more information on how we're supporting IT recruitment connect with Partner, Jamie Grant or Consultant Brooke Ireland.
Image

Need to find top talent?
Find the right IT talent for your organization's unique needs with our team of recruitment professionals.