Meridia Strengthens Recruitment Solutions for Post-Secondary Institutions with Addition of Mark Gillis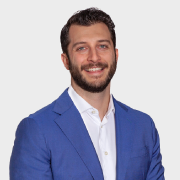 Halifax, NS - Meridia Recruitment Solutions, a KBRS company, is pleased to announce that Mark Gillis, Senior Consultant, has accepted a leading role with the firm. Working in partnership with KBRS, a national leader in academic search, Mark will focus on providing post-secondary institutions with recruitment solutions to attract top talent for professional and staff roles within academic institutions.  
"We are thrilled that Mark has accepted this new role with our team," said Kevin Stoddart, Managing Partner, Meridia Recruitment Solutions. "His unique blend of experience in executive search and contingency recruitment, as well as his consultative approach, ideally suit him for this role." 
Mark began his recruitment career as an Executive Recruiter with KBRS in 2013 and later transitioned to the Meridia team to support the organization's expansion into the United States. After the past two years as a senior leader with a safety services organization, Mark has returned to Meridia to support a growing roster of clients in the academic sector through his expertise in recruitment and his dedication to client service. His focus will be helping post-secondary institutions find the people they need for a diverse array of administrative, professional service, and technical roles.  
"I am excited to be rejoining Meridia as the team continues to grow, bringing our services to new organizations," said Mark Gillis. "I look forward to partnering with our clients to build strong teams with the people they need to succeed."   
Mark is a graduate of St. Francis Xavier University where he earned a Bachelor of Business Administration. There he was an Executive of the Student Union and a member of the Board of Governors. 
Active in the community, Mark is the current Chair of the Board of Directors for Alzheimer Society of Nova Scotia and a volunteer with Big Brothers Big Sisters of Canada.  
Please join us in welcoming Mark Gillis to this role. He can be reached at mgillis@kbrs.ca 
About Meridia Recruitment Solutions:
Meridia connects organizations with outstanding professionals by building strong relationships. We offer a streamlined recruitment processes based on a contingency model which means you only pay for our services once a successful candidate is placed. Our approach is informed by the unique needs of today's academic institutions and is ideally suited to attracting top talent for key professional and staff roles to support you're the success of post-secondary institutions. Our team is specialized in the recruitment of professionals in the following areas: accounting and finance, engineering and operations, information technology, marketing and communications, development, human resources and office administration.