Meridia Recruitment Solutions welcomes Austin McLennan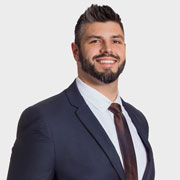 Meridia Recruitment Solutions is excited to announce that Austin McLennan has joined the company as a Consultant.  Austin will be working closely with Partner, Katherine Risley on construction recruitment as well as the manufacturing, engineering and operations sectors throughout Atlantic Canada. 
Austin's previous recruitment specialization in engineering, industrial sales and supply chain management, paired with his dedication to providing top quality service, has enabled him to build a strong reputation that is highly respected in the Industrial sector throughout the Atlantic region. Known for his relationship development skills, Austin brings a strong network to this position and will be a valuable asset to the Meridia Team.
Originally from Edmonton, Austin was recruited to Halifax to play football with Saint Mary's University in 2006 and has since made Halifax his home.