Image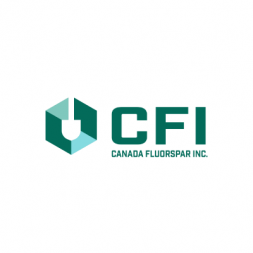 Core Logging Geologist - Temporary
Industry
Engineering
Industrial, Mining, Oil & Gas
Location
Newfoundland and Labrador
Apply Now
Core Logging Geologist - Temporary
Canada Fluorspar Inc.
St. Lawrence, NL
Reference #NH-15016
Canada Fluorspar Inc. ("CFI") is the only active producer in Canada and the United States of acidspar grade fluorspar, an industrial mineral critical in the fluorochemicals, fluoropolymers and aluminum value chains. CFI is privately owned by Golden Gate Capital ("GGC"), a San Francisco-based private equity firm with over $17 billion in committed capital.
From its location in St. Lawrence, Newfoundland and Labrador, where its mine site is nestled amidst the beautiful Burin Peninsula, CFI produces acidspar grade fluorspar from its new world-class mill and ships product year-round to global customers in the U.S., Canada, Europe and Asia. In 2020, CFI completed the construction of a new marine terminal ("Blue Beach") and will commence with shipments of both fluorspar and aggregates from Blue Beach in 2021.
On behalf of CFI, we are seeking an individual to join their team as a Core Logging Geologist. Reporting to the Senior Core Logging Geologist, you will provide geological services that contribute to the objectives of the Geology Department in accordance with CFI's objectives to discover, define and evaluate mineral resources.
Key Accountabilities:
• Responsible for conducting work in accordance with CFI's Safety and Environment Policies
• Responsible for performing geological core logging duties in accordance with CFI's Core Logging Guidelines
• Contribute to the correct and efficient execution of planned drilling programs as directed by the Chief Geologist
• Contribute to monitoring the quality work performance of the Core Cutting/Sampling technician
• Responsible for the input data for core logs, drilling shift reports, summary information and generate reports as directed by the supervisor and/or delegates
• Contribute to timely communications with Mine Ops supervision regarding logistical operating conditions in an active and dynamic mining environment
• Contribute to daily drill contractor supervision and monitoring of all activities related to the project. This includes activity monitoring, consumables monitoring, quality control and sign-off of daily shift reports.
• Contribute to maintaining CFI's infrastructure in a safe, tidy and responsible manner
• Contribute to the image of the company by conducting business in an efficient, professional and customer-oriented manner including participation in community outreach and technical conferences
• Contribute to department reporting as required
• Contribute to ensuring continuous adherence to legal requirements, standards and organizational objectives
• Maintain geological data in an organized manner
• Contribute to the image of the company by conducting business in an efficient, professional and customer-oriented manner
• Perform all duties responsibly and professionally
• Ability to work effectively in a team environment and independently with minimal supervision
• Perform a variety of miscellaneous duties and assignments as directed by supervisor
Skill & Qualifications:
• Degree in Geology with a minimum 1-year of relevant experience
• Training or competency in Microsoft Suite, formal presentation software
• Training or competency in geological modelling software (GEMS & SURPAC), AutoCAD-Promine, ArcGIS is considered an asset
• Excellent interpersonal, verbal, and written communication skills including ability to effectively communicate and interact with all individuals with integrity, empathy and sincerity
• Ability to exercise good judgment in recognizing scope of authority and protecting confidential information
• Ability to complete work in a timely manner with accuracy and attention to detail
• Ability to work under pressure and maintain a calm focus during hectic periods
• Possess excellent problem-solving skills, good judgment, diplomacy and tact
• Superior organizational and planning abilities
• Registered Member in good standing with PEGNL
To express interest in this opportunity, please click the "Apply Now" button below. For more information, contact Natalie Hand at 709-722-6925. If you require accommodation to participate in the recruitment process, please let us know.
Meridia Recruitment connects leading organizations with top talent by building strong relationships and creating ideal matches with candidates because we are only successful when you are. We appreciate your interest in this opportunity.
To learn more about Meridia Recruitment, our job opportunities, and career advice, we invite you to explore our website: www.meridiarecruitment.ca. For information on opportunities with our parent company, Knightsbridge Robertson Surrette, visit www.kbrs.ca.